Independent of manufacturer
When everything runs as it should, you shouldn't need to care at all. In OpenMetering you can set up routines for what should be done automatically, and then rules for how you would like to be notified if there should be any hiccups/deviations.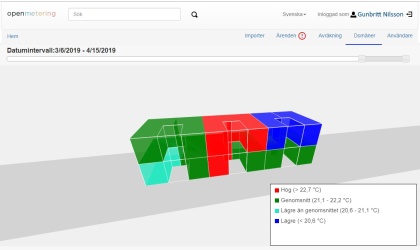 Where in the building is there coldspots? In our powerful 3D visualization you can easily find out. You can also see where the radio reception is bad or where the consumptions are the highest. For the advanced user it's also possible to export the data to Excel to work with it there.
The billing module creates files that then can be imported to your economy and/or accounting system. You can set it up so that these files are created periodically and are sent to the receiver automatically. If a price or a meter value is missing, a reminder will be sent out so that this can be attended to. Otherwise, nothing needs to be done here.
Your data are stored securely on a server within EU, not only with the highest security when it comes to back-ups and protection against intrusion, but also well guarded physically. Your data is treated according to GDPR, and OpenMetering has an external DPO (Data Protection Officer), which ensures that routines and infrastructure are up to date according to the most current regulations.
This is where you can see trends in your consumption and also compare it with the average consumption of your neighbours. Also tenants has the possibility to dive deep in their data to be able to make adjustments and make long term changes and savings.